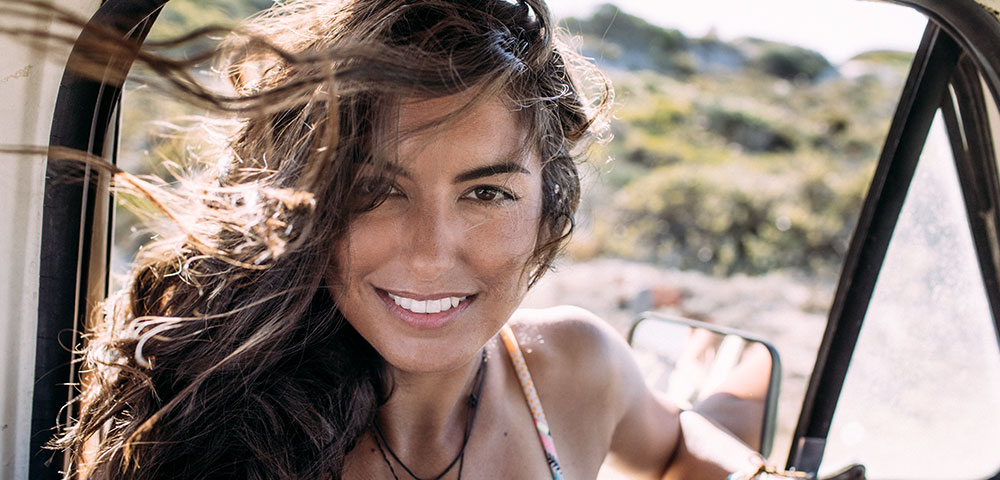 Her story. Your products.
Our EcoSun Pass.
"Wow. The project is awesome. We are so close to a successful conclusion." Mia is pleased to hear the words of her colleague, but immediately thinks about what might be done better.
It is such a contrast with the kind of life she has led so far. Studying, chilling, and running into the sea with her friends. And, most importantly: doing things the simplest way possible, not making anything more complicated than is necessary. That doesn't have to mean doing things poorly or with less success, she firmly believes. Quite the contrary, in fact. Particularly when she looks at her sometimes very stressed-out colleagues. Her classmates don't look like that, she thinks, as she sits in the final meeting of the day. A bit of downtime would do the group good. It is one of the first things she recognized as a student studying for her bachelor's degree in a big company. Far away from lecture halls and seminar rooms. Slap bang in the midst of the working life that awaits her.
It's something she longed for. For more direct processes, simpler communication and more relaxed working. Most of all, though, she longed for the sea. While all the participants in the meeting – of which she as the student lawyer is one since her colleagues integrated her fully into the team – celebrate the approaching success, Mia wants to celebrate too. But differently. She says goodbye to her colleagues, gets into her car and heads for her passion. The beach and the sea are what she needs right now. Sometimes you need to be alone without feeling lonely. Sometimes you need to relax and be happy without having to pay attention to others.
Having arrived at beach hut 14, which she associates with so many positive memories, she takes off her shoes and walks towards the water. "I've had my share of adrenalin for today. The board can stay dry for now", she decides, enjoying the moment on the beach. Looking for shells was never her thing, too boring. Yet when she sits down in the sand at the water's edge, a shell swirls around her left big toe. The rays of the sun are reflected in it, arousing Mia's curiosity. She takes the shell in her hand and marvels at its beauty. "You might not be perfect, little shell, but you have everything a beautiful shell needs", Mia thinks, looking up and squinting a little to look at the sunset, and she feels happy. Just happy. She has found precisely the combination that makes her happy in life. Not always perfect. But just right.