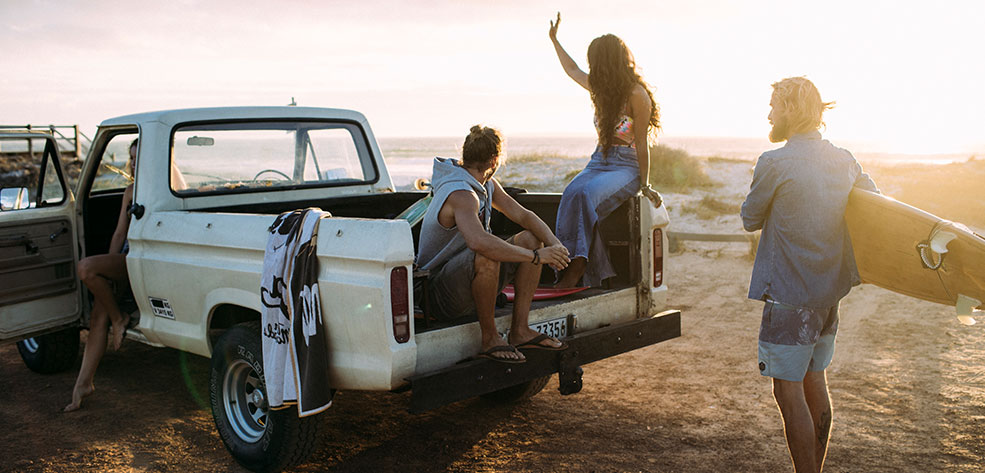 Their stories. Your products.
Our sun care expertise.
Halfway through the lecture, Tina's phone vibrates. "Heading to the beach. Camper van's packed. You take care of food and drinks. XOXO Steven", read the text message, short and sweet. "That's my concentration gone", laughs Tina, quietly starting to pack up her things. The student beside her looks at her quizzically: "What are you doing? The lecture doesn't finish for another hour and a half." "It's Friday afternoon. I'm starting the weekend a bit earlier today", laughs Tina as she immediately sets off an avalanche of cellphone messages.
"Steven is on his way. Boards are in the van. I'll get stuff for the barbecue and salad. Bring your own drinks", Tina wrote in the group chat with Aaron and Mia. The pair also had a lecture at the same time just one building over, but she was sure her two surf buddies wouldn't need to think too hard about whether they wanted to ring in the weekend. "No problem. We'll be at our beloved beach hut 14 in an hour." She didn't have to wait long for a text message in response. Not even a minute, to be precise.
Sometimes Tina had the feeling she had known the other three for years, even though they had only met the previous semester. Naturally it had been on a quick trip to the beach between courses. They are all passionate surfers, love nature, the outback, and – most of all – the powerful surge of a wave. "Bound by passion", Tina thinks to herself as she takes care of supplies for the coming two days and nights at the beach, as she has promised. This sort of connection is something she has only ever felt with a group of friends from her childhood with whom she is still very close. Within the group, they don't need to say much to understand one another, and it's a similar feeling with Steven, Aaron and Mia. Here, the code word "Life" is enough to ensure that a short time later they'll all assemble at the shared spot on the beach.
After riding countless waves, involuntary plunges into cold saltwater, and moments of pure adrenalin, the friends sit together on the sand, listening to the crackling of the campfire and the sound of the waves. "Life is good. May it stay that way forever", Aaron declares to the group. "It will, my friend, it will. We just have to catch the right wave", says Steven in response. Monday morning, when the daily grind begins again, seems far away. But it's something they also look forward to. After all, the next adventure can't be far off.