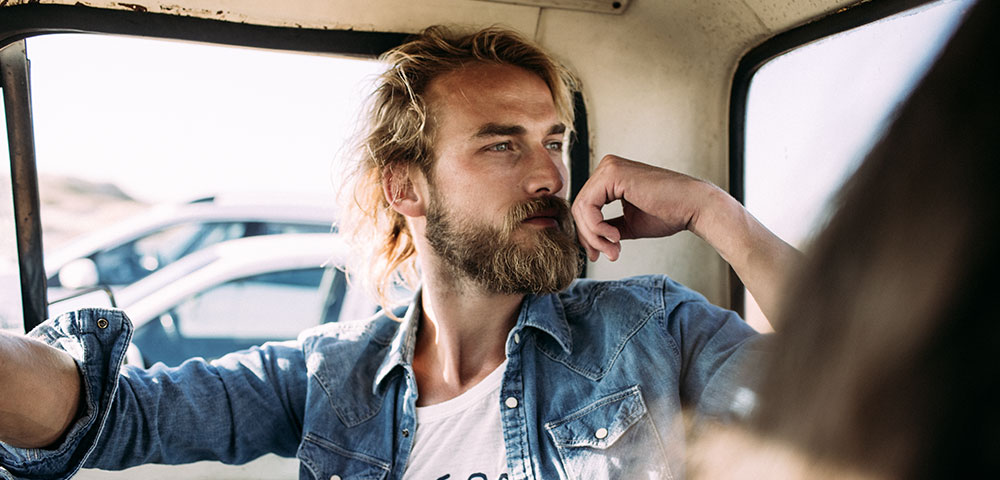 His story. Your products.
Our Sunscreen Simulator.
He expected his internship at the law firm to be different, very different. More exciting, more stimulating. Faster-paced even, in the sense that he thought he would be able to make an impact. Aaron was annoyed. He felt hemmed into a certain self-realization and thought back to a surf weekend he spent with his buddies Steven, Tina and Mia the semester before last. "We just have to catch the right wave, then everything will be OK", Steven had said as the group joked around the campfire. "The right wave. I need the right wave. Now", Aaron's current state of mind made him certain.
Full of confidence, he walked to the boss's office. "I need time to find the right wave. For me. For my life. A long weekend would really help. After that, I'm sure that you'll be happy with me", he exclaimed to his boss, who was impressed by the outspoken manner of his intern in his search to find himself. "It's give and take. I will give you time to find the perfect wave. Good luck. Now leave me alone, I've got a lot to do", grumbled the boss, with no real anger in his tone. In fact, he was reminded of himself.
Aaron, slightly uncertain as to how he should interpret his boss's statements, cleared his desk, threw his things in the car and drove to beach hut 14, which had always been and remained a starting and meeting point for the time he and his friends spent together on the beach. He kept his outdoor and surfing gear permanently in his car. "You never know what the day will bring", was his answer whenever his passengers rubbed their eyes in disbelief at the amount of stuff Aaron carted about with him. Alongside his surfing gear and surfboard lay climbing harnesses, ropes and a helmet. Sea or mountains – Aaron decided on gut instinct according to his mood.
Arriving at the beach, he realized it was later than he had planned, and he sat for a while in his old pick-up, looking thoughtfully at the sunset. It came to him like a flood wave. He didn't want to run away at all. He wanted to recalibrate, to burn off some energy. To find the right impulse for his attitude and his thinking.
He enjoyed the freedom of spending the night under the stars. It was so wonderful to wake up and immediately feel the sand beneath your feet, to feel the rising sun tickling your nose. "Freedom. This is what freedom feels like", he thought, as he stretched his arms out wide as if wanting to embrace the whole world.
A few hours later he was crouching on the sand, letting the water wash around his feet, and he felt a kind of relief. He wanted to burn off some energy and he had managed it. The waves took it all out of him. Fun and adrenalin made the time fly by.
Now he knows what he wants. And a large part of this desire is freedom. But he also knows that everything is give and take. That's why he is looking to the future full of enthusiasm. This is the attitude that will impress his boss once again. So did he find the perfect wave? He doesn't know. And he doesn't care. Because it's the search that drives him.