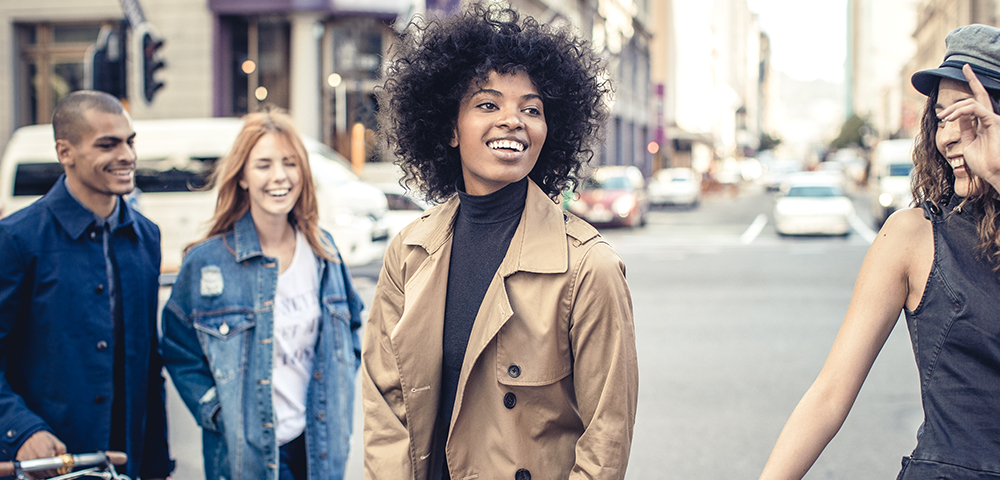 Their stories. Your products.
Our commitment.
How Naomi enjoyed her weekend….. Finally going out, finally immersing herself in the city's nightlife. She wanted to switch off just for a few hours. Forget all the stress of work, not have to worry about anything. For her, this was the reward she'd been looking forward to all week.
The food was perfect, the service excellent. And afterwards she rocked the dance floor to the rhythm of her favorite music. Now that work and office life has caught up with her, it still tugs at her. "Why can't life always be so relaxed?", she asks herself. At the same time though, Naomi knows the answer better than anyone – she actually wouldn't want it to always be that way. She is far too driven, clear in her goals, and has the necessary ambition to achieve them too – simply drifting is not her style.
Today is the perfect example of this. She rushed from one meeting to the next. Making arrangements with colleagues. Lots of processes on autopilot. Standard. Yet she doesn't want to be without this "stress" either. She chose it for herself after finishing university. And yes, she is happy about it.
Nevertheless, today she's looking forward to going home. A different kind of switching off, but just as satisfying as doing the rounds of the bars and clubs. She hangs up her work clothes, puts her laptop bag next to the little desk in the spacious kitchen-diner, and settles down.
"I'll just put the kettle on, brew my favorite tea, and head out onto the roof terrace", she thinks. No sooner said than done, and she steps out onto her green oasis in the heart of the city. Her friends Anna, Marion and Carl are already hard at work. They are taking care of the small-but-perfectly-formed vegetable garden above the roofs of the city and preparing their shared dinner. "How was your day?", Anna asks her friend. "Don't ask", answers Naomi, waving her hand and turning towards the small tomato bush directly next to the provisional yet very cozy seating area made out of a stack of Euro pallets.
A cozy glow from the brazier, intense discussions among friends, and laughter that comes from the heart: Naomi loves her life. Tomorrow, exactly the opposite awaits her once again, but that's exactly what she chose for her life. She needs the variety.