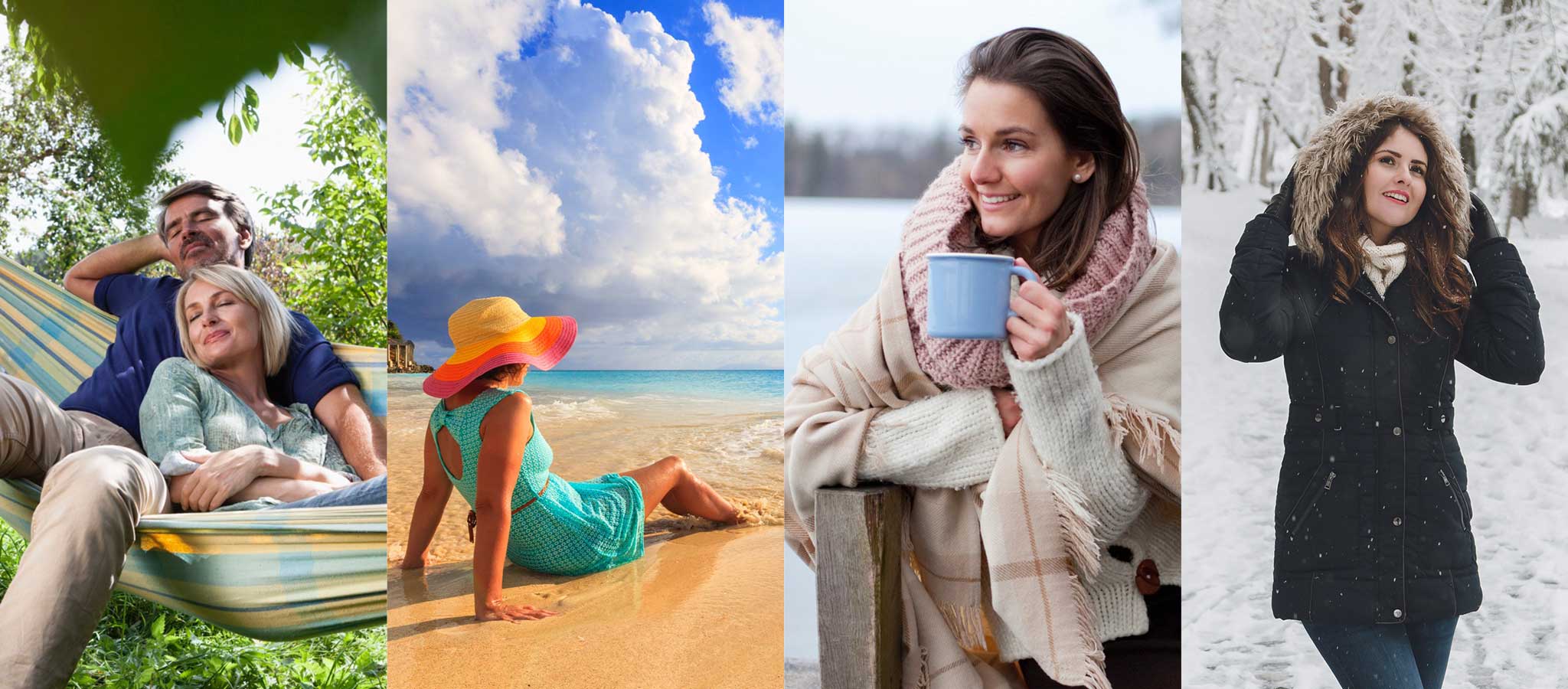 Seasonal Beauty & Care
Meeting beauty needs in every season
Dry indoor air and winter winds, hot summer weather and sun exposure – every season brings a different set of challenges to the skin. In winter months, skin becomes more susceptible to irritation caused by cleansing products, while its barrier function and moisture regulation become compromised. As spring begins and the days grow longer, people spend more time outdoors and the need for UV protection increases.
Facial skin is generally oilier in the summer. UV rays cause photo-aging and thickening of the stratum corneum, and activities like swimming lead to cutaneous dehydration. When the leaves begin to turn and autumn approaches, the skin needs support regenerating after the effects of summer. Temperatures decline, the stressors of winter return and the cycle begins again.
To enable different seasonal hair- and skincare products that fulfill people's needs and wishes throughout the year, BASF's Care Creations® has developed the Seasonal Beauty & Care concept.
Every season brings a different set of challenges to the skin:
Spring Beauty & Care
Time for new beginnings
Designed to match the feelings and wishes that come with the transitional season of spring and anticipation of summer, our spring solutions offer protection, regeneration and gentle care for hair and skin.
Read more
Summer Beauty & Care
Fun in the sun
With the specific demands that summer places on the hair and skin in mind, we have developed a selection of solutions that care, soothe and protect.
Read more
Winter Beauty & Care
Warmth and pampering
To meet the special personal-care needs that arise in the winter, we have created an array of solutions that protect from cold and dry air, gently cleanse, moisturize and provide intensive care and a sense of pampering.
Read more
Autumn Beauty & Care
Time to cool down
Fall is another transitional season, when the skin and hair need support in recovering from summer stresses and preparing for the challenges of winter.
Read more